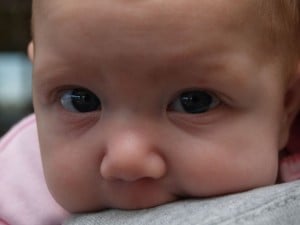 Everyone learns to speak one language from their parents when they are young. But when they get older they have to take classes to relearn a second language. This isn't easy and people spend most of their elementary school life trying to learn the basics. Learning a second language in today's world is very useful because so many people travel to different countries for business and there is not one main language yet. The question of should parents teach their children two languages when they are babies or shouldn't they has been a question for a long time. The trouble is that it is very hard to see when babies actually start learning to understand languages. Antoher worry with teaching babies two languages is that they will become confused with both languages. Researchers have begun to use Electroencephalography (EEG) on babies to see if their brains were even recongnizing words from different languages.
In a recent New York Times article, one group of researchers from the University of Washington used babies between the ages of 6 and 12 months from both monolingual and bilingual families. They found that all monolingual babies were able to recognize different phonetic sounds regardless of what language it was. But the monolingual babies who were 10 to 12 months old only registered sounds from the language spoken at home and had no recognition of the second language. The bilingual babies recognized sounds from both languages but couldn't differentiate between them from ages 6 to 9 months, but from 10 to 12 months old the bilingual babies were able to discriminate sounds from both languages. In a different recent study researches from the University of British Columbia studied newborn babies and found that newborn babies had preferences for whatever language or languages their mothers spoke while pregnant. Other research has shown that bilingual babies are also able to "learn different ways to solve logic problems or to handle multitasking."
So if you ever have a baby, make sure that you expose it to two languages to make it an adorable genius!