How the human body is truly remarkable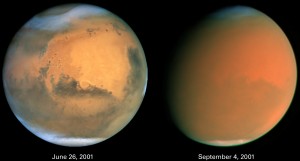 Mars has experienced dust storms for years now, so a simple one is nothing new; however, by October 29th of this year, the dust storms will be at their all time high according to NASA. The dust storms on Mars are so strong that back in 2007 (the most recent larger one), the storm dimmed the sun, reducing the solar power available to two rovers on different sides of the planet. This continues to be an issue as the storms increase, limiting the power available to the rovers, and leaving them alone. Not only do dust storms threaten rovers, but astronauts too. Future astronauts will have to face tremendous winds, extreme dust, and lack of solar energy like the rovers. Furthermore, research from the past will now to indicate a pattern to predict future storms as the storms have thus far indicated a cycle and with further observation will continue to prove true.
I chose to write about the mars dust storm because besides the fact that I am utterly obsessed with space, the dust storms and the recent water finding on mars bring us closer to finding a planet just like ours, and thusly in the far future a refuge planet in the event of disaster on earth. By creating a history of dust storms we can evaluate the safety and conditions of this planet as we continue to learn about it.