Jessie Szalay and Callum McKelvie outline in ​livescience why cucumbers actually relate to the phrase, "cool as a cucumber". Not only are cucumbers a healthy option in the kitchen, but their numerous health benefits on a molecular level also contribute to their greatness.
Cucumbers are 95% water, therefore containing many hydrating benefits and nutrients for our bodies. According to Lemond, "we can get 20-30 percent of our fluid needs through our diet alone". Cucumbers are a really good way to up our intake of fluids in our daily diet. Cucumbers became categorized as a superfood in 2019, accrediting their nutritional benefit to a higher status. Phytonutrients are health-promoting substances found in plant foods. Cucumbers are a really good source of phytonutrients, containing antioxidant, anti-inflammatory, and anti-cancer benefits.
When breaking down the individual benefits of the cucumber, the peel and the seeds offer the most nutrients for our bodies. Containing a good source of fiber and beta-carotene, which is "an antioxidant that helps with immunity, skin, eye, and prevention of cancer". The seeds also contain a good source of minerals and calcium. 
Cucumbers aid in cancer prevention. They contain two phytonutrients compounds that are associated with anti-cancer benefits called lignans and cucurbitacins. Pharmaceutical companies have been looking into cucurbitacins as they think they can aid in new cancer-fighting drugs. They have found that the cucurbitacins "can help block the signaling pathways that are important for cancer cell proliferation and survival". They can also inhibit the growth of pancreatic cancer cells. But, overall the current evidence doesn't suggest that Cucumbers reduce/kill lung cancer cells.
They also can benefit our bone health. Vitamin K is essential to bone health, and one cup of cucumber contains ~19% of the daily intake recommendation of vitamin K. Vitamin K may lead to reduced fracture rates, increase bone density, and can positively affect our bone's calcium balance. Our body uses vitamin K when building bones, studies have shown that a higher intake of vitamin K leads to a reduced risk of hip fractures in both elderly women and men.
Furthermore, cucumbers also keep our hearts healthy. Ware said "eating a variety of fruits and vegetables of all kinds is associated with a reduced risk for many health conditions, such as heart disease, diabetes, stroke, and obesity". Cucumbers have a pretty high level of potassium which is helpful in this regard. Potassium is essential in maintaining good heart health, so adding a bit more cucumber a day is just one step towards a healthy heart. Studies have been done that prove that those "who consumed 4,069 mg of potassium each day lowered their risk of cardiovascular disease and ischemic heart disease… compared to those who took 1,793 mg per day". Cucumbers also promote vasodilation which is the widening of the blood vessels, linking it to low blood pressure. As mentioned previously, the vitamin K content in cucumbers also is known to be essential in the blood-clotting process.
Pickling is the process of preserving edible products in an acid solution to prevent spoiling. Pickles are either fermented or non-fermented. Fermented pickles are soaked in brine (water saturated with salt). Different types of pickles are soaked in different solutions, thus the difference in taste. As we learned in AP Biology this year, lactic acid fermentation is done by bacteria and animal muscle cells. Fermentation occurs when there is no oxygen available or an organism didn't evolve to use oxygen. In bacteria, lactic acid can convert milk products to cheese, yogurt, etc. In pickling fermentation, the cucumbers are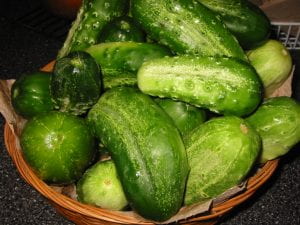 soaked in an acidic liquid to achieve a sour flavor. The sour flavor/fermentation process is a result of a chemical reaction between the food's sugars and naturally present bacteria. "Commonly planted varieties of pickling cucumber include Royal, Calypso, Pioneer, Bounty, Regal, Duke, and Blitz" according to Szalay and McKelvie. My dad and I have made pickles before and they were delicious, like cucumbers, pickles also have several health benefits. Fermented food in general is really good for our body and acts as a natural probiotic. ​​This means that they can restore the balance of the bacteria in our gut, support our digestive health, and can even alleviate any digestive issues.
Let me know in the comments your favorite ways that you include cucumbers/pickles into your diet, I am always looking for new ideas. Hopefully, after reading this you will add some more cucumbers into your daily diet, because I know I will!