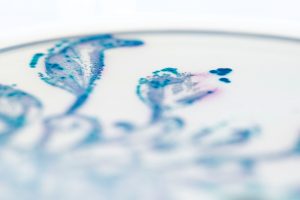 Photo Link: Wild Garden of Gut Bacteria, By: Nicola Fawcett
Most of us are used to the common notion that bacteria may not be the most beneficial factor in maintaining your health.  Thats why the results of a recent research study conducted by scientists at Babraham Institute in collaboration with colleagues in Brazil and Italy, yielding evidence that in fact good bacteria in the gut can control gene expression in our cells, is game-changing!
The research team, led by Patrick Varga-Weisz, made this discovery by studying the gut bacterias found within various mice. Their attention was quickly drawn to the mice that had lost most of their gut bacteria. It became apparent that in the mice with a very low amount of the bacteria within their gut, contained increased amounts of the "HDAC2 protein".  When investigating deeper into HDAC2, it was found that increased amounts of this particular protein are associated with increased risk of colorectal cancer.
This new research also resulted in the finding that the amount of chemical markers on our genes, are increased by short fatty acids. These specific chemical gene markers, known as "crotonylations", were only recently discovered and are newly classified as genome "epigenetic markers". The researchers then found that by shutting down the HDAC2 protein, short chain fatty acids increase the number of crotonylations.
Ingestion of fruits and vegetables into ones healthy diet are vital – ultimately determining how chemicals produced by gut bacteria, affect genes in the cells of the gut lining. In other words, the short fatty acids, which come from those dietary elements, have the ability to move from bacteria into our own cells, and from there cause changes in gene activity and cell behavior.
In the end, the scientists were strongly convinced that the ability to turn off and on genes, is determined by changes in crotonylation. This inferred that the existence of crotonylation in the genome of cells is vital to protect the body from cancer. Therefore, the pretense of good bacteria is very important for the prevention of disease and illness in the body!
As someone with a strong passion for the science, and also very influenced and intrigued by medicine, I very much enjoyed this study. As the boundary to curing cancer is still a hurtle doctors and scientists try to transcend everyday, studies like these, are both hopeful and fascinating, to me. Also, as someone curious about how the human diet ultimately affects the functions and inner workings of the body, this research again was very engaging and interesting!
Primary Source Article: How good bacteria controls your genes
Secondary Source: Wikipedia – Gut Flora (Gut Bacterias)