No, it's not what you're thinking, but Devil Weed is invasive brown algae disrupting ecosystems across the globe. This seaweed, Sargassum horneri, has existed along Japanese and Korean shores and has now popped up along California coasts. The major concern in each location is the Devil Weeds rapid and unstoppable growth. It pops up in rocky reef areas, harms and alters surrounding wild life, and completely takes over like a weed. Evidently, its controlling nature inspired its name and has raised great concern for affected ocean life as it continues to grow at an unbelievable rate.
S. horneri  is a 10 to 50 foot tall annual species, completes its life cycle in one year, though there are "overlapping generations" in the same seasons. This allows it to remain in the same habitats for years and years, forming dense 'forests' and hijacking specific areas.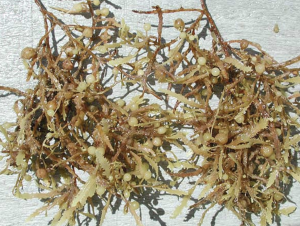 Image Credit: Sargassum
Researchers at the Santa Barbara Costal Long Term Research Project (LTER) and National Science Foundation (NSF) used various approaches to try and learn how to clean and control Devil Weed in the most efficient and powerful way. This proved a challenge because of the seaweeds unpredictable and unknown behavior, but the researchers were able to tests some ideas. They experimented and discovered that partially cutting the stems of the seaweed, instead of completing removing the plant, would stop the plant from self-reproducing and it would later die off. They also discovered that the best way to remove a lot of the Devil Weed was to use an underwater suctioning machine though this only allowed two scuba divers to work at once and it was very time consuming and costly. Lastly, they figured out that the plant thrives in warmer climates and reproduces the most during those times, but overall they couldn't find an efficient and effective removal approach like they had hoped for.
The biologists concluded that it's better to attack S. horneri during the early winter by slashing the stems of the seaweed and using an "underwater suction device", though these tactics only slow down its spreading and make no significant long-term impact. This issue should be of concern of many and I believe we all should care about our underwater ecosystems. So with that being stated, if more research isn't done, awareness isn't raised, and action isn't taken S. horneri  will continue to grow at rapid rates. It will most likely harm and take over big portions of our underwater life and this intrusive and cynical behavior is only typical, of a Devil.