Think of it this way, the bacteria from your food intake remains in your gut for some time. This micro-gut biome is what produces an array of neurochemicals that the brain registers. At this point, the brain regulates some cognitive process with those neurochemicals. The processes include, memory, mood, and learning. Actually, a majority of the supply of serotonin in your body is produced and released by the bacteria in your body. Serotonin is a neurochemical that regulates mood. Thus, a deficiency in serotonin levels can cause depression.  Because of this, the gut is starting to be examined more closely to hopefully help find an easier, less invasive form for depression medication.  
Sander van der Wel, This file is licensed under the Creative Commons Attribution-Share Alike 2.0 Genericlicense.
Current depression medication has harsh side effects on the body. As Professor Julio Licinio of Flinders University states, "Antidepressant drugs not only have side-effects which cause other health problems, but they also might not be the best solution for the mental health conditions they're prescribed to treat," it becomes evident that there is a void in the medical field. Professor Licinio and his team has high hopes that their gut biome research will serve as a way to fill that void and help millions of with their depression. Because there are 350 million people in the world that suffer from major depressive disorder, MDD, they believe that a simple test can improve the stand of living for the masses.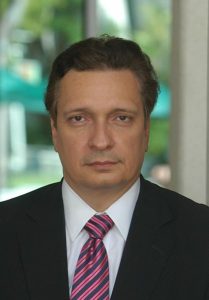 Julio Licinio, This file is licensed under the Creative Commons Attribution-Share Alike 4.0 International license.
Professor Licinio is also the head of the Mind and Brain Theme at the South Australian Health and Medical Research Institute, also known as SAHMRI. In conjunction with Ma-Li Wong–Head of Pharmacogenomics Research Program within the SAHMRI's Mind and Brain Theme–, Geraint Rogers–Director of Microbiome Research within SAHMRI's Infection and Immunity Theme–, and Steve Wesselingh–SAHMRI's Executive Director, and the Infection and Immunity Theme Leader–, Julio Licinio are facing tribulations to inform the international community of the correlations between Obesity and Depression because, as Professor Wong states it, "we are in the midst of an obesity and depression epidemic."